Last login: 3 years ago
Gender: Female
Page Views: 7497
Points: 1811
Occupation: Rock star!!
Hello. My name is Ashley. I loooove me some Papa Roach! They are my favorite band and always will be. Lets see if I can name ALL the other bands that I am suuper fond of.

Papa Roach
Shinedown
Motley Crue
Sixx A.M.
Bon Jovi
Weezer
Guns 'N' Roses
Big Time Rush (yes...I know. You don't have to say anything)
Green Day
Halestorm
Sick Puppies
Avenged Sevenfold
Poison
Boston
Avril Lavigne
Some Buckcherry
Def Leppard
Eminem
Rihanna
Evanescence
Fosterchild
Old Good Charlotte
Some Korn
Linkin Park
My Chemical Romance
P!nk
Paramore
Senses Fail
Skid Row
Three Days Grace
Taking Back Sunday
Tommy Lee (Never a Dull Moment and Tommyland: the ride)
The Used
30 Seconds to Mars
100 Monkeys
All Time Low
Cyndi Lauper

....I think that's about it.

I'm going to school to be an elementary teacher, but deep down I really want to be a rock star...no. I all out want to be a rock star. I'm a lifeguard and a swim lessons instructor. I am almost always listening to music, and I am one of those people who write in a journal (this is recent, because there has been a little extra stress in my life lately).
I believe I'm a pretty likeable person, but like every other human being on the planet, I have a dark side. I can be pretty hateful when I want to be.
I have a super awesome best friend who goes by the name of Kitty (everyone on here would know her as JacobyKitten). She's a really awesome best friend, and I love her with all my heart and soul.
My mom is my role model, and I don't know what I would ever do without her. She seriously is the best mom on the planet.
I also have a boyfriend named Tyler. He and I have been together for over a year, and he is pretty awesome as well. It's not often when you actually find a guy who actually cares about the things you say...especially at my age. Of course, both of us still have a long way to go.
I'm just gonna take life as it goes. There's no reason to stress. Life is short, and I don't want to spend it stressing out over stupid shiz. Step by step. Minute by minute. Day by Day.

Insanely recent....as in 2 days ago, I finally met Jacoby Shaddix for the first time ever. I was a blubbering idiot, because I was so nervous and excited. That whole day all together was the best day of my life. Hands down. The show was fan-fuckin'-tastic as it always is. I love the rawness of Tobin's bass. I wish I could have met him too, so I could tell him that. He's a badass. Jacoby was such a sweetheart!!!!! He's soo cool!!!!!! I also think he has an obsession with titties...he is a guy afterall. And he loves his kids. He made that clear when he lectured me about being good to my parents. I absolutely did not mind at all. Anything to get him to talk to me just a little bit longer. My best friend, Kitty. She was suuuuper excited. Her smile is literally from ear to ear, and so cute. I'll put it up here. BEST DAY OF MY FUCKING LIFE!!!!!!!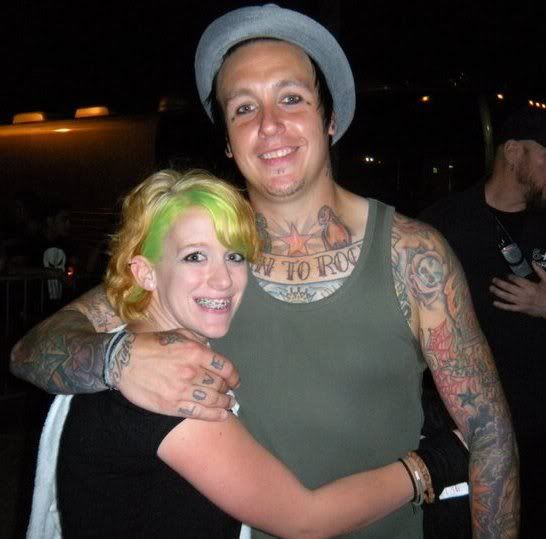 Me and Jacoby!!!!!





Kitty and Jacoby!!!!!!!